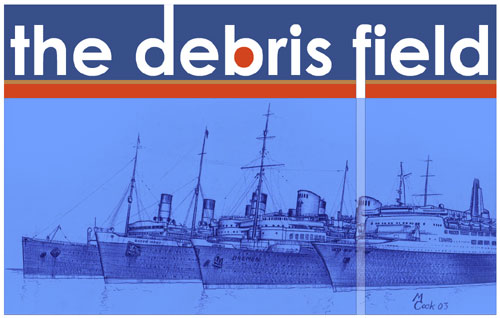 Dedicated to the Research and Modeling of Merchant and Special Purpose Vessels
What's New
Onno Heesbeen's scratchbuilt 1:600 Andrea Doria posted in Model Gallery
Onno Heesbeen's scratchbuilt 1:600 Normandie posted in Model Gallery
Queen Elizabeth photos to aid the modeler posted in Resources
Chris Schonberger's Caronia (Ex Vistafjord) in Lisbon photographs posted in Resources
Alberto Montes Llano's 1:600 scratch Michelangelo posted in Member's Work in Progress
Don Stoltenberg's Entex 1:350 Olympic posted in the Model Gallery
Don Stoltenberg's Airfix 1:600 Queen Elizabeth Troopship posted in the Model Gallery
Chris Schonberger's QM2 at Lisbon photos in Resources
Chris Schonberger's 1:142 scale Revell Northsea Fishing Trawler posted in Kit Reviews
Chris Schonberger's 1:72 scale Arkona posted in Kit Reviews
"When the winds of change blow, it is much more advantageous to build a windmill than a windbreak….."
A well-known phrase claims all good things must come to an end. Not necessarily so. In April 2003, the Debris Field (herewith referred to as simply the 'DF'), one of the most popular ship modeling websites, appeared to founder. In reality, it did not ~ not quite finished with engines, yet rather slow ahead. The Message Forum was fortunately maintained, providing a strong voice in support of rejuvenation. The groundswell support for keeping the DF afloat encouraged us, three 'ordinary guys' yet regular contributors, to work together, with the full approval of Mike Pell and Russ Wild, towards 'rebuilding' the website many expressed as being too interesting, and valuable, to be prematurely sent to the breakers. Behind-the-scenes discussions, and detailed planning, have resulted in the 'revived DF' you are experiencing today. And like a newly launched hull, the complete fitting out will take time, so we ask all to be patient with us!
At this time we would like to thank the founder of the DF, Mike Pell, and acknowledge our appreciation of the unselfish commitment, and dedication that he, his son Steve and Russ Wild, have invested in the creation and maintenance of the DF during its first four years. As we will soon discover, maintaining a site such as the DF (a labor of love) is probably no easy task, requiring many hours of attention most likely at the expense of friends, family and other pressing commitments. Other sites have folded under similar pressure. So, kudos to Mike, Steve and Russ (collectively known as 'RMS') for an excellent job, and we hope they will remain regular contributors in support of our venture and the new direction we envision. As Mike once expressed: Ship research and modeling, first and foremost, should be enjoyable and rewarding to all regardless of skill or age group. We could not agree more, and it is this philosophy upon which the DF will continue to prosper.
In the preceding paragraph we make reference to a new direction. As with any 'reborn' venture, change is inevitable. During months of planning we found it necessary to undertake a complete diagnostic of the former DF, with the aim towards overall streamlining. This was not so much a matter of choice but one of necessity, given the fact that the DF's continued existence is dependent on Modelwarship's generous offer of 'web space', at no cost to us. Although the decisions behind 'what to eliminate' vs. 'what to keep' have been difficult, we believe that, collectively, we have struck a sensitive yet rational balance. Akin to boarding a favorite liner after a major refit, regulars may be initially surprised to find their favorite public room rebuilt or their comfortable niche eliminated. However, with time we do believe the underlining logic behind our 'fresh start' will be appreciated. It should be noted that all previously submitted DF material is archived, and available to anyone, upon request.
Thus, our Mission Statement: The DF is a website dedicated to the research and modeling of all merchant and special purpose vessels. Although liners and cruise ships may be our primary interest (and for many, passion), the DF's focus will not be of one particular class of vessel (liners), or one particular ship, exclusively. The DF welcomes, and encourages, the discussion and submission of all types of 'powered' merchant / special purpose ship information and models: tugs, fireboats, hospital ships, fishing trawlers, cargo ships, tankers, scientific research, sail-steam transition vessels and yes, liners. This broadening of the field, we hope, will result in an increased user base and a greater pool of resources that can be shared. A fraternity such as the DF can only survive by the willingness of its users to share their research and modeling experiences.
We would also like to thank Tim Dike and Jeff Herne, webmasters of Modelwarships, for their more than generous provision of web space and their assistance in establishing the organizational framework of the revived DF. Although Modelwarships tossed us a life-ring, the resulting collaboration was not borne out of mere convenience. We like to think of our partnership as being a strategic alliance, for the betterment and support of both websites equally. It is amusing to hear DF modelers refer to warships as being 'the dark side'. The reality is that many of our fraternity are equally interested in naval vessels, or at least the military role many of our favorite ships have honorably served. Ship modeling is ship modeling, regardless of subject, and the techniques to render and detail a merchant ship: masking, painting, weathering, rigging, deck scribing, P/E enhancement, waterline dioramas, etc., whether an assembly kit or a scratch build project, are the same. We can learn a lot from the 'dark side' modelers, as a visit to their excellent website will prove. However, to avoid duplication and redundancy, we have an agreement with Modelwarships such that submissions will be posted on one, or the other, but not on both websites simultaneously. The two independent sites will work together in cooperation, not competition. As both sites will be linked we do not see this being a major concern, or hindrance.
In closing, but in no way least, we would like to thank Mike Cook for creating the beautifully detailed 'Home Page' graphic and also for his assistance in building upon the framework established by Tim and Jeff. A gifted artist (he has 'the line'), Mike has generously provided the graphic without expectation of compensation or remuneration. It is this spirit of sharing will become the hallmark of the DF, as no ship or nautical subject is any one person's 'intellectual property'. We suspect we will be seeing more of Mike's work in the months ahead. We would also like to thank Russell Wild for his excellent design of the Debris Field Logo.
So, welcome aboard! Although we have become, with the support of 'RMS', the new DF webmasters, the DF is not ours. It is yours. Its continued success depends upon you, the user, whether a regular or a first time / one time visitor, the experience you gain and most importantly, the experiences you contribute. As webmasters we are here to assist, and thus we welcome your thoughts, opinions and suggestions. Introductions are in order ~ we are:

Scott Reigel / United States of America
Christian Schonberger / Germany (temporary stopover in Portugal)

Robert James (Arjay) MacDonald / Canada
On November 01, in grateful appreciation for all that he has done towards the rejuvenation of the Debris Field, we welcome the newest addition to the team:

Michael Cook / Canada