Onno Heesbeen
The Netherlands
Occupation: Graphic and Industrial Designer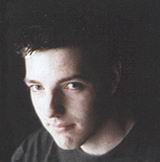 Unlike others my interest in liners was never started by the Titanic. When I was studying to be come a graphic designer I had a specific art history class where we discussed the subject of 30ís advertisement posters. I developed an interest in those posters and in ocean liners since ship traveling was an important way to get around back then.
Ships are not my only passion I also like photography, Science Fiction and model building. A couple of years ago the QE2 came to Holland and I went to see and more important photograph her. It was the first time I photographed a ship and certainly not the last one. A selection of the ships I photographed can be seen on my Internet site.
I have always been interested in models as long as I can remember. The fascination of scale caught my eye as a child and during my childhood I made SF models. I also develop an urge to scratch build my own space ship designs. It was only when I developed a taste for liners that I started modeling ships. I never really noticed model ships (beside warship models) until the Titanic movie came out and suddenly Titanic kits where everywhere. The Revell 1:600 scale Titanic was my first ship model and I was satisfied with it back than but I experimented modeling / painting techniques on it and after discovering the many inaccuracies it now is like the real Titanic in a broken up state.
Since then I made Revellís Queen Mary, Airfix Canberra and QE2 on which I had applied the techniques discovered with the Titanic kit. I also have several kits, which Iím still working on (the Airfix Mauretania and Queen Elizabeth). I prefer the scale 1:600 and to make my ship as water line models. A water line model also is perfect when making a little sea diorama.
After I graduated as a graphic designer and one year of art school I started studying industrial design at the Dutch Design Academy. I chose to study at the department "man and mobility" Iím not really involved in naval architecture but more with the conceptual ideas of sea traveling and ship design. What ships mean or do for people onboard ships and onlookers or the way you embark a ship. Those are things that fascinate me about ships.
Around the time Cunard announced their QM2 plan I got interested in how a modern ship could still fulfill the expectation people have when you ask them what a passenger ship looks like (at that Time I had no idea what QM2 would look like). My Queen Victoria design was the result of this school project (see my Internet site for more info). For the presentation, it was the first time I had scratch build a model ship.
Then came QM2 along and I must admit I kind of have a love / hate relation with this ship. After studying the ship in the form of a computer generated 3D model I had the urge to scratch build a QM2 model. For comparison reasons I made her in the scale 1:600. The model is practically finished but some details have to wait until the ship is completed herself. The most recent project Iím working on is a scratch build model of the Potsdam II. This is yet another self-made design but now for a small Holland America Line cruise ship.
To conclude I have one great tip for all modelers out there and that is Cunardís historic motto: "getting there is half the fun". The most fun with modeling a ship is doing the (visual) research enhancing the accuracy of your model and discovering and exploring new techniques.
Internet > Cruising the 21st Century: http://members.chello.nl/m..heesbeen1/
e-mail: onnoheesbeen1@hotmail.com
Onno ~ 11 / 03