Heller's 1:200 Scale Car / Passenger Ferry 'Avenir'
Kit Number: 80625
Model Size: Length 65 cm, width 9.15 cm.
Price: Out of production, Occasionally found on eBay
Review by Thomas Richter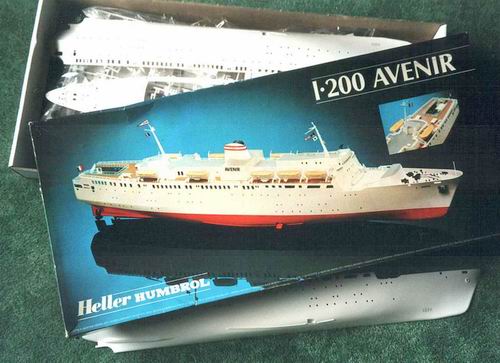 Background: Of the Avenir little is known apart from statistical facts. As this is not one of the well known Atlantic liners, where information can be found in abundance, this may be the right place to present some facts about this vessel:
General Information: Built 1967 at Forges de Chantiers de la Mediterranee, La Seyne, Frankrike.
Dimensions: 130 x 18,30 x 5,95 m BRT 6.920 DWT 1.100 deadweight.
Power Plant: Two Fiat diesel engines of 15.000 hp. 21 knot.
Capacity: 940 passengers, 384 cabins, 130 cars.
Service History: Launched 1966; Test runs February, 1967; Delivered to Compagnie de Navigation Mixte, Marseilles March 27,1967; April 14, 1967: Guest cruises to Baleares and Tunesia; April 18: Regular Traffic between France and Tunis, Tuesia; July 01, 1969: Sold to Compagnie Générale Transméditerranéene, Marseille; October 1973: Required by the French Navy in evacuating 830 civilians from Egypt because of the Israeli / Egyptian war; October 1975: laid up for sale; January 1976: Sold to Trans Tirreno Express, Cagliari, Italy. Renamed Expresso Corinto; April 14, 1976: Started service Brindisi-Corinth; 1981: Deployment for cruises from Venice; August 1984: Sold to Marininvest Founds, Panama. Renamed Shahrazad. Used for Pilgrims traffic between La Spezia, Jeddah and Port Sudan; September 21, 1985: Sunk in Port Sudan after fire.
Parts List: 622 parts in total. Main deck, boat deck, two piece hull, prop shafts, propellers (2), rudder, various deck houses, detailed bridge front, funnel deck house including one piece stack, walls of boat deck upper structure including cut out windows, stabilizers (2), various vents, two masts (both in two pieces), anchors (2), 10 boats, two detailed davits per boat, two stands molded in clear plastic, swimming pool in clear plastic, all windows and portholes in clear plastic, decals for ship's name and funnel colors, brass chain for anchor chain, plastic railings, detailed instruction sheet in eight languages (English, French, German, Italian, Spanish, Netherlands, Finnish, Norwegian).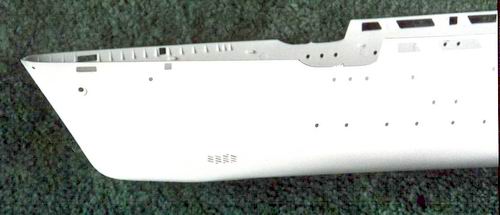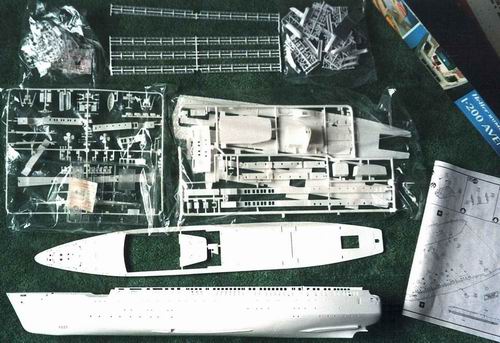 Decals: Good quality but for a ship of this size very brief. Missing are draft marks, labeling of lifeboats and any exterior markings. Rating 6 out of 10.
Ease of Construction: As the kit is not yet built this can only be speculated upon. A first fitting of the two halves of the hull showed the parts to be accurate. It should be somewhere near the high quality of the other Heller kits, like the SMIT ROTTERDAM, although it should not be expected to equal the excellent quality of Japanese producers like HASEGAWA. Rating 8 out of 10.
Ease of Conversion: The Avenir has been renamed 2 times. This did not go along with major structural changes, although it is known that the color pattern changed. Minor conversions should however be no problem at this scale. Rating 10 out of 10.
Crispness of Molded Parts: Parts are molded very well with no flash. The detailing is quite good and shows a lot of features of the original due to the large scale. However there is a synthetic touch to the kit lacking some of the small details, which would have been possible at this scale. The hull plating is not visible. At this scale this would have given the ship a very nice touch without looking exaggerated as in smaller scales. The davits are very good, the best I have seen on a ship model, but the forecastle equipment could be more detailed. The only major flaw is the clear parts for the windows as they all contain small indentations in the middle of each window and porthole. Rating 8 out of 10.
Things You Like: The size and scale make for a very detailed model of the Avenir. Heller has done a remarkable job in matching the looks and the proportions of the original. Although the original is not exactly what one would call a pretty ship, the model should be fun to build because there is no liner (or ferry in this case) in such a large scale. With all the windows cut out it has a realistic touch to it even if not equipped with additional features like P/E. I would refrain from using the plastic railing though and use P/E instead.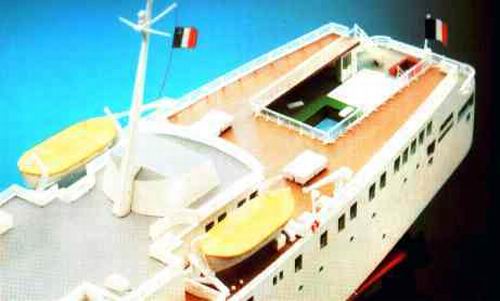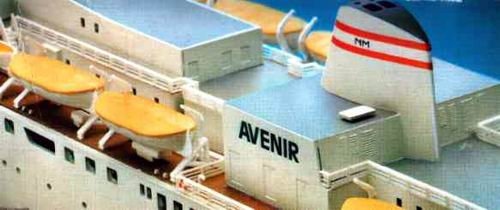 Things You Would Like To See: More decals; detail: more details possible at this scale like positions of deck lights, antennas, forecastle detail etc.; better molded clear windows.
Overall Comments: Difficult to understand why this kit is out of production. With only minor shortcomings this is a good representation of the original in an outstanding scale resulting in a large and detailed model. Possibly it was not a commercial success because the Avenger did not leave any footprints in marine history and as a ferry it is not as attractive to build like the famous Atlantic liners. Even if it would have been theoretically possible to do even better, the details of this ferry are unmatched by any other liner kit! For the model enthusiast it is definitely worth considering. Heller has confirmed that the molds still exist ~ however, a re-release is not being considered at this time (2003). So if you can get your hands on one of the rare models left: BUY IT!
TR ~ 11 / 03
Pictures of the Expreso Corinto are obtainable at: http://maritimemuseum.ac.za/jmmc/jmmce.html